Share This Post
Cancun is one of Mexico's most sought-after regions for bucket list vacations. This vacation hot spot has so much to offer from sunny weather, powdery white sand beaches and crystal clear turquoise Caribbean waters.
The Mexican Tourism authority and government wants you safe because tourism is Mexico's number 1 revenue generator and they have pointed the low numbers of victims of crime compared to the 28 million American tourists who travel to Mexico each year. Mexico is no different than the U.S. so you just need to use common sense and be aware of which areas to avoid in Cancun. The government of Mexico also is providing extra security in areas to ensure travelers are safe. If you do not go to crime ridden areas in your own city, then I am sure you will not go into crime ridden areas when you travel.
While the United States has issued a travel advisory for the entire country of Mexico I want you to rest easy in knowing that Cancun is safe. The U.S. Government main goal is to advise and aid U.S. citizens when it comes to world travel, and provide accurate warnings concerning safety and security.
The resorts of Cancun, Cozumel and Cabo San Lucas are already full of American tourists in 2019, and I expect they will be near capacity over spring break. Despite the media and their perception, Cancun continues to see a rise in tourist each year; in 2016 they saw 5.83 million, 2017 saw 6.04 million, the estimated number in 2018 is 6.27, and the projected number of visitors to Cancun is 7.6 million in 2020.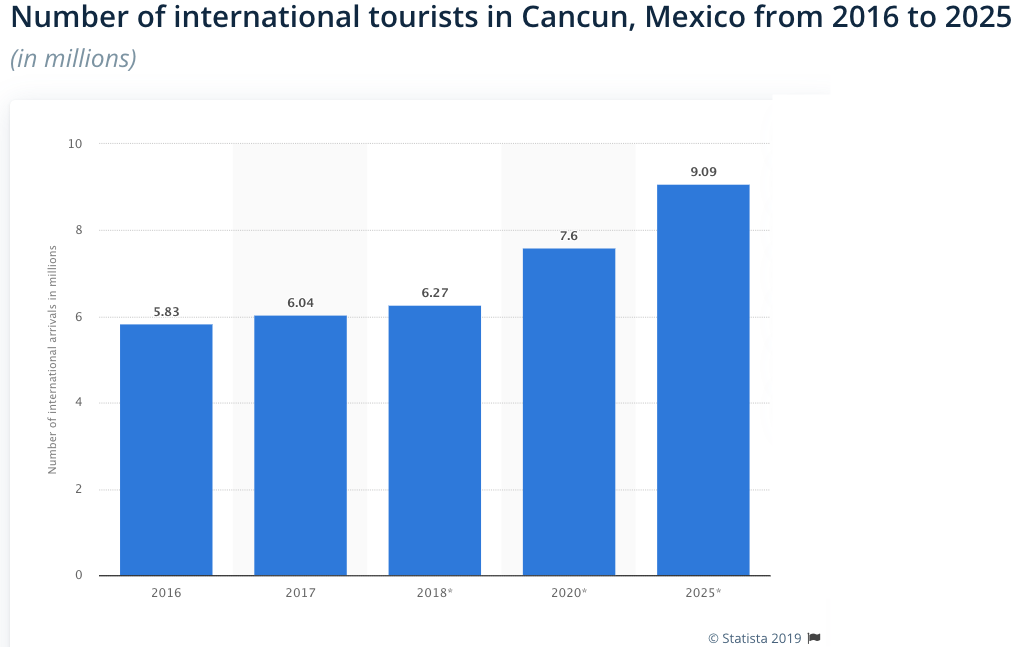 Read reviews from travelers' experiences about and in Cancun:
"In the first quarter of 2018, hotel occupancy in Cancun stayed level with 2017 figures at a healthy 77 percent, even though the room inventory grew by 3 percent this year" (Source NYT)

"Very safe. Use common sense like you would anywhere else. Things happen all
Over the world. My husband and I travel twice year to that area for many years. Our 20 year old daughter went in May with her boyfriend to Cancun and were fine. They never felt unsafe. Once you land in Cancun airport and see thousands of ppl from all over the world there, you will see that everything will be fine. We will be in Cancun in 8 weeks. Cannot wait to go!" - @Bayou_girl73

"I have always believed that those that are overly worried about their safety shouldn't be, if they exercise common sense and dial up their situational awareness. And, I've always believed that people who suggest things are 'perfectly safe' or should have 'no concerns' are also mistaken. Rather, there is a place in the middle, described in my first sentence. I love Cancun will continue to visit there year after year" - @leetG968US
"Visited for 25 years, live there now. I feel safer in Cancun than in many places in the US." "I feel very strongly that Cancun is one of the safest resort areas in North, Central and South America and it is important that everyone gets this message." –Terri Lane, Mexico Tourist
"I have been here more times than I can recount and I never once had an issue with safety despite what you're hearing on the mainstream media, who tends to sensationalize things." -Mark Murphy, travel expert
"Mexico isn't violent in the "right areas," just as Canada and the United States aren't. Mexico is "as safe as it has ever been," at least where tourism is concerned." –Walter McKay, Vancouver B.C. based police specialist
No matter the destination it is a good idea to always follow these basic travel safety tips.

Follow these tips while traveling to Cancun:


Steer clear of spots with a bad reputation, known gang activity or place that give you bad vibes. Stick to well-traveled places.
Check in with friends and family back home as often as you can. Make sure someone knows where you're at and when you expect to check in next.
Be aware of your surroundings. This is a good rule of thumb in general, but it's especially important when traveling abroad.
Don't drink too much. Make sure you know your limits. Don't put yourself in a vulnerable position.
Only use ATM machines that are found at reputable local banks or those at your resort.
Do not wear expensive jewelry or watches that might attract unwanted attention.
Avoid taking excessive amounts of cash out and about with you.
Enroll in the Smart Traveler Enrollment Program (STEP) to receive Alerts and make it easier to locate you in an emergency. Follow the Department of State on Facebook and Twitter.
Review the Crime and Safety Reports for Mexico.
Below are the safe areas of Cancun:

Cancun Hotel Zone - The hotel zone is guarded by the police and the Mexican cartel actually avoids this area. Explore Boulevard Kukulcán which runs through Zona Hotelera and there are tons of fun things to do in the Cancun Hotel Zone!
Cancun Beaches - Most of the beaches are off limits to the cartels, especially in the hotel zone. So, relax, unplug from life, social media, and enjoy the warm sand beaches of the Gulf of Mexico!
Isla Mujeres - Isla Mujeres is an island 9 miles off the coast of Cancun and remains a safe place for travelers who are visiting Cancun.
Shopping in Cancun - The upscale malls, especially those around the Zona Hoterea, are exceptionally safe.
Day Trips - I love a great day trip to make sure you check the excusions the resorts offer; going directly through the resort is a safe option. Make sure to visit Xel-Ha, Xcaret, Chichen Itza, and Tulum as they are all safe and make for great day trips from Cancun.
What to do in case of an emergency:


Dial 911 in case of an emergency
U.S. Embassy, Consulate General and Consular Agent
U.S. Consular Agency Cancun
Blvd Kukulkan Km 13
Torre La Europea, Despaco 301 ZH
Cancun, Quintana Roo, Mexico 77500
Phone: 999-316-7168
U.S. Consulate General Merida (for emergencies)
Calle 60 No. 338-K x 29 y 31
Col. Alcala Martin Merida, Yucatan, Mexico 97050
Phone: 999-942-5700
Tourist friendly hospitals in Cancun:
Hospiten Hospital Cancun (998-881-3700)
Hospital de las Americas (998-881-3400)
Hospital Galenia (998-891-5200)
Tourist friendly dentists in Cancun:
Clinica American Smile (998-887-4521)
So… is it safe to travel to Cancun?

The bottom line is yes, Cancun is safe!
Traveling to Cancun is no different than traveling elsewhere, because at the end of the day we need to use common sense. Cancun remains a booming tourist destination for world travelers and shows no signs of slowing down. As with any other urban area, stay away from the well-known dangerous areas and don't let media or stereotypes guide your decision. Use our Cancun travel tips and enjoy an absolutely unforgettable (and safe!) vacation to Cancun.
Let us show you how we can provide luxury travel at discounted prices, your next all-inclusive Cancun vacation is right around the corner!